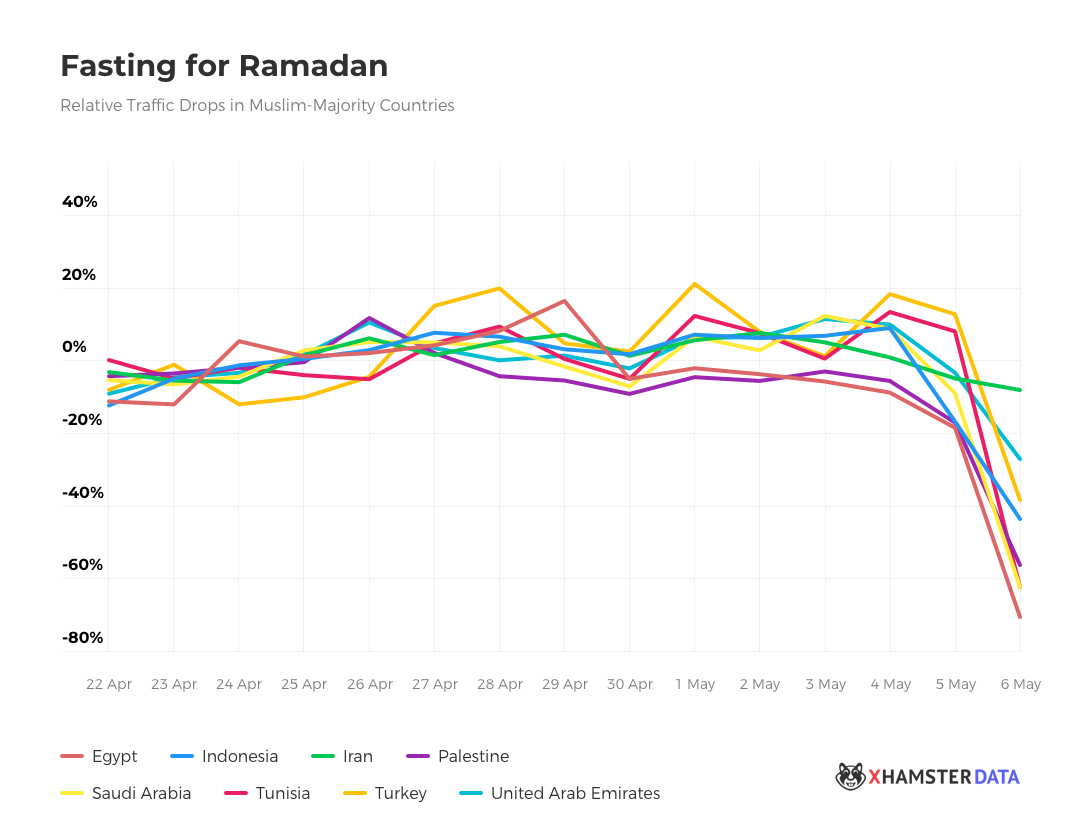 Much of the Muslim world is celebrating Ramadan, and in countries from Saudi Arabia to the Netherlands, traffic is dropping precipitously. The annual month-long observance includes a ban on masturbation — take that, #NoFappers — and last year we saw a decline of 9.3% worldwide, and 2% in the US. Someone bring Mia Khalifa back, PLEASE!
The biggest drops in 20 Muslim-majority countries, by percentage:

Algeria (-76.1%)
Yemen (-74.6%)
Egypt (-74.2%)
Libya (-74.1%)
Afghanistan (-66.6%)
Tunisia (-61.9%)
Palestine (-61.2%)
Jordan (-57.7%)
Saudi Arabia (-53.2%)
Kuwait (-48.1%)
Syria (-47.2%)
Indonesia (-44.9%)
Turkey (-40.7%)
Iraq (-39.1%)
Qatar (-38.7%)
Malaysia (-35.5%)
Lebanon (-34.5%)
United Arab Emirates (-27.8%)
Oman (-27.08%)
Iran (-14.3%)
Morocco (-11.8%)
Iran and Morocco — your pillars of Islam are looking a bit flaccid. (Even if other parts aren't!)
Below, you can see the drop graphically, by total number of visitors.
"We admire the devotion of our Muslim users, but business-wise we can't wait for Ramadan to be over," says Alex Hawkins, Vice President of xHamster. "Luckily, we're seeing that not everyone can hold out a full month. A week into the observance, and numbers in many countries are slowly ticking up."
CONTACT:
Alex Hawkins
Vice President, xHamster
alex.hawkins@xhamster.com